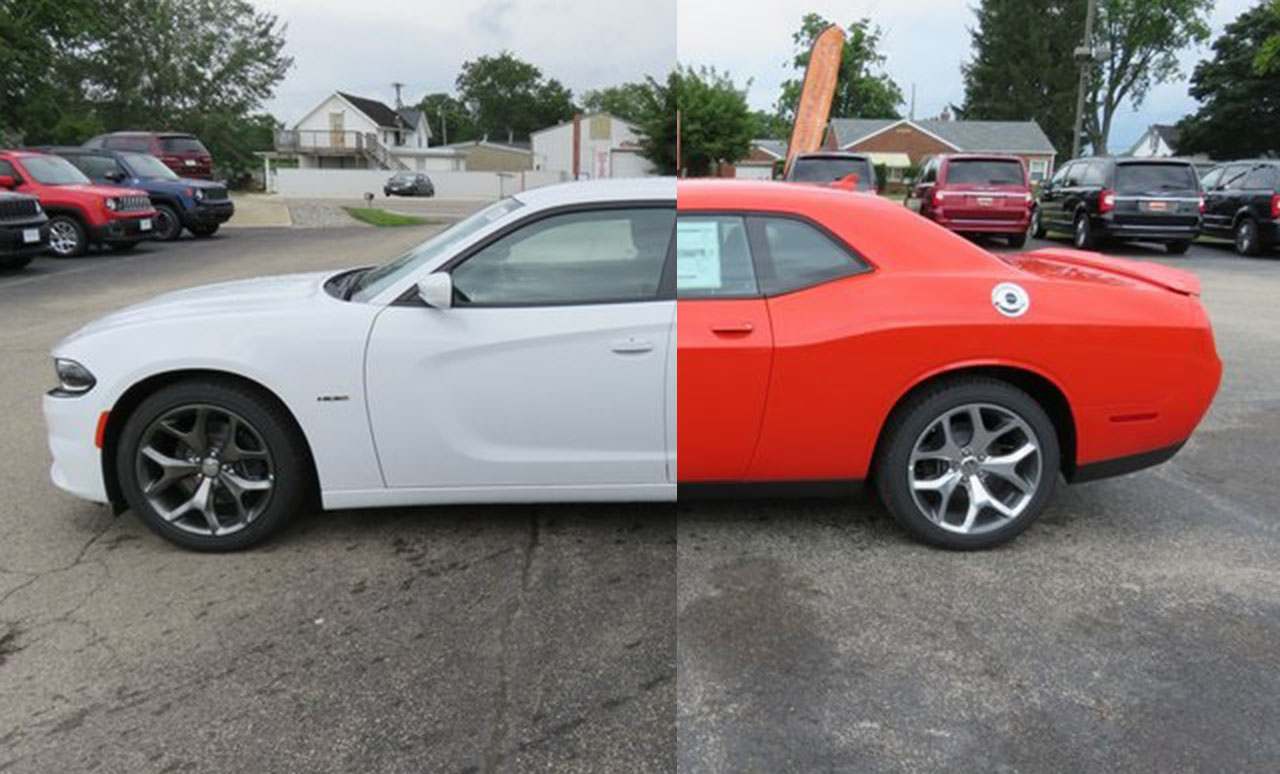 22 Aug

The Challenger vs. The Charger

TOBEY AUTO GROUP – It was the best of times. It was the worst of times. On the Tobey Auto lot – insufferably torn – riddled with indecision – plagued with ambivalence – flooded with gingerliness – as you decided between a Dodge Challenger and a Dodge Charger.

In the car world, we call this unenviable scenario one thing: The Sophie's Choice of Muscle Cars™.

Which one do you choose? The Challenger with the sports coupe frame? Or the Charger sedan that moonlights as an all-wheel drive powerhouse? Here at TobeyAuto, we compared the two cars in six categories and named a winner.
Style
The Challenger: Boasts a sleek coupe exterior with an aggressive brow design  that celebrates its muscle car heritage. Oh yeah, it also comes in Plum Crazy Purple!
The Charger: Keeps an iconic and chiseled look (hello three-piece body-color spoiler) even if it does give way to a family-friendly sedan design. Also available in Plum Crazy Purple!
Winner: The Challenger – and we want it Plum Crazy Purple.
Performance
The Challenger: Four engine offerings with the supercharged 6.2 L Hemi SRT Hellcat V8 taking the cake – 707 Horsepower with 650 lb-ft torque! Class-exclusive electronic shifter with paddle-shifting capabilities is an added bonus.
The Charger: Like the Challenger, superior handling is paired with the supercharged 6.2 L Hemi SRT Hellcat V8 creating the speediest sedan ever! We'll say it again: 707 Horsepower with 650 lb-ft torque! Also fitted with a Torqueflite auto transmission.
Winner: TIE – everybody wins with a Hellcat V8 engine!
Interiors & Tech
The Challenger: Leads it class in most interior volume and offers 16 sporty interiors to create a personal ride.  A class-Exclusive 7-inch Digital Cluster Display means ultimate customization.
The Charger: Provides maximum driver and passenger comfort with its 11 VIP seating options.  60/40 split-folding rear seats and 16.5 cubic feet of trunk space make storage a breeze. Beats Audio to boot.
Winner: The Challenger  – The Charger's larger capacity and superior sound almost makes this a tie, but as a class leader with interiors to match every personality, the coupe does a lot with little.
Safety
The Challenger: 5-star Overall NHTSA crash test rating;  Equipped with blind spot monitoring and electronic stability control for maximum accident avoidance.
The Charger: 5-star NHTSA crash test rating; Loaded with 80 standard and available safety and security features included all-speed traction control and full-speed forward collision warning.
Winner: The Charger – The sedan's advanced safety technology bests even the high safety-rated Challenger.
Fuel Economy
The Challenger: 19/30 MPG
The Charger: 19/31 MPG
Winner: The Charger – every mile counts!
Overall
Winner: TIE – Okay, okay we couldn't pick a winner. Packed with attitude, the Charger doesn't compromise performance and style even if it's in family sedan mode while the Challenger, with it's classic design, remains the classic sports car of your teenage dreams. Can you really go wrong here? We didn't think so.
Schedule a test drive before you decide and check out our inventory of 2016 Challengers and Chargers here.