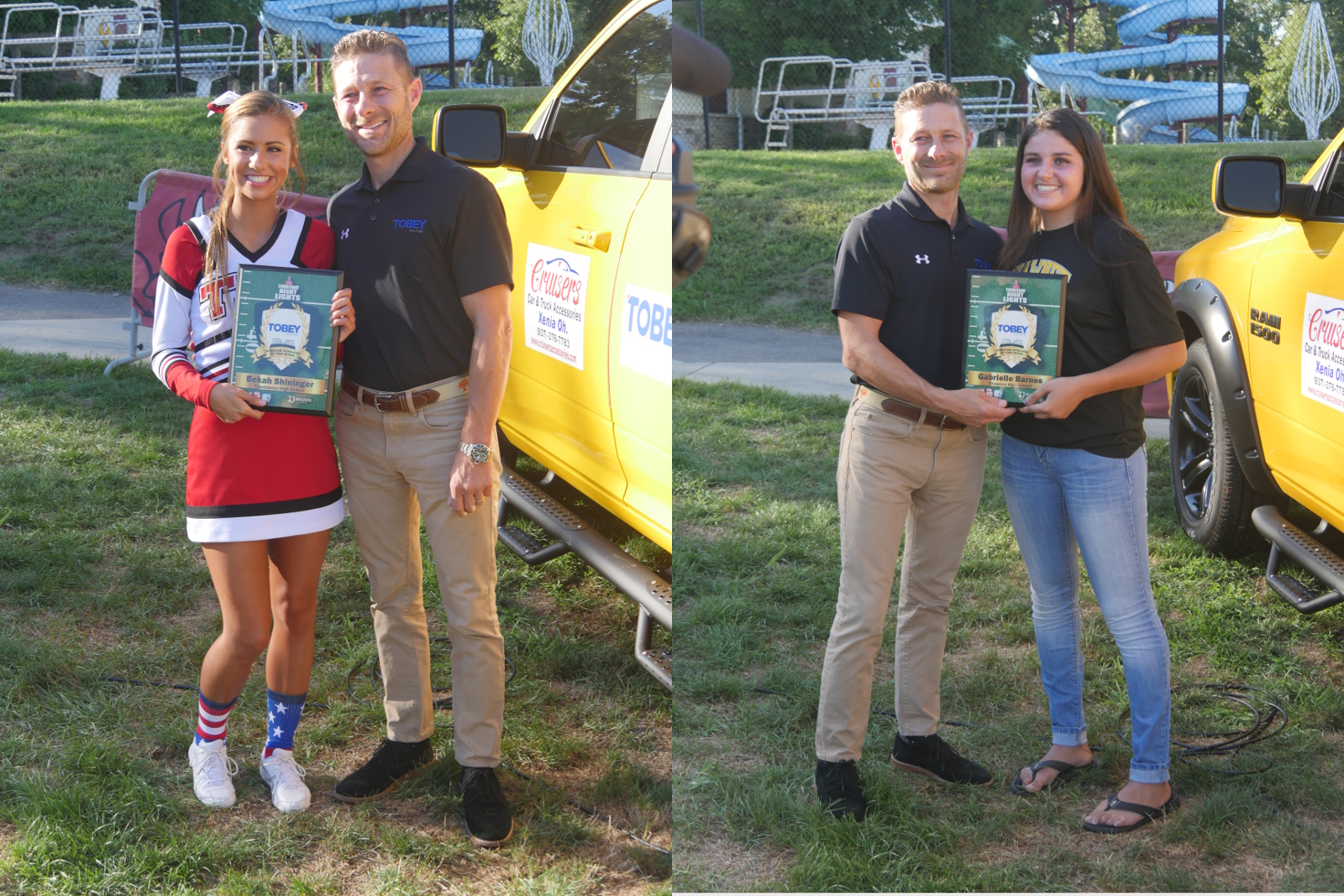 06 Sep

Bekah Shininger and Gabrielle Barnes Recognized as Tobey Auto Group Student Athlete of the Week
9-6-2016
Joshua Ater
Marketing Director
Tobey Auto Group
937-372-4451 ex 3049
jater@tobeyauto.com
Tipp City, OH – Chris Tobey, President of the Tobey Auto Group, was happy to present Bekah Shininger from Tippecanoe High School and Gabrielle Barnes from Shawnee High School with this week's Tobey Auto Group Athlete of the Week award. Bekah and Gabrielle were chosen by their respective schools because of their excellent performance both in the classroom and on the field. As a part of the award, they will both receive a $250 scholarship from the Tobey Auto Group at the end of the school year at the awards program and will also be eligible with other chosen student athletes of the week to receive a $5,000 scholarship at the end of the year.
Athlete of the Week Recipients
Bekah maintains a 3.25 GPA, and is a co-captain of the varsity cheerleading team. She runs varsity cross country, and is also their team captain. Off the field Bekah has twice been a Stage Crafters counselor for the youth theatrical program, is a member of Octagon service club, and also a member of the St. John's Youth Group. She will attend Bowling Green.
Gabrielle is involved in varsity volleyball and varsity cheerleading. Other school activities include the National Honor Society, Student Council, and Fellowship of Christian Athletes. Gabrielle is a Dayton Juniors Volleyball Club 13 Blue volunteer, she also volunteers for the Black and Gold Auction, and Sacred Heart Church. She plans on studying exercise science and becoming a Pediatrician.
"As a local family run business it is important for us to support our local schools and the future of our community." said Chris Tobey, CEO of the Tobey Auto Group, "Recognizing great efforts as both an athlete and student hopefully encourages many other students to follow their example and strive to be their best. Great work Bekah and Gabrielle!"
Each week the Tobey Auto Group will recognize two students chosen by their respectful schools during the Thursday Night Lights football broadcast produced by FOX45 News. By the end of the 2016-2017 school year a total of $10,000 in scholarship money will be awarded in support of our local student athletes.
About the Tobey Auto Group
 The Tobey Auto Group represents two Chrysler Dodge Jeep Ram dealerships in the greater Dayton region – Key Chrysler Jeep Dodge, and New Carlisle Chrysler Jeep Dodge — along with Cruisers, an aftermarket parts store, and Key Mobility, a handicap and mobility vehicle and accessories store.
The Key and New Carlisle dealerships boast one of the strongest inventory of Chrysler, Dodge, Jeep and Ram trucks in the entire Southwest Ohio region. The family owned dealerships focus on providing the absolute best customer service for the life of every vehicle starting with honest pricing, no bait-and-switch programs, and no high-pressure sales. In addition to our new car lineup, Tobey Auto Group features the areas' largest selection of certified pre-owned vehicles. The Tobey Auto service departments are rated as best in the area and feature a 30-minute express lane for quick, no appointment oil changes, and we are the only CJDR dealership servicing fleet and commercial business needs that includes heavy-duty trucks and service vehicles. The group also sells AEV (American Expedition Vehicles), an offering no other dealership in a 100 mile radius offers.
Cruisers offers hundreds of after-market car parts from mats to seat covers, fog lights, bed liners, tool boxes, headache bars, ladder racks, step bars, and much more. Key Mobility offers wheelchair accessible equipment for your vehicle including lifts, racks, steering and braking systems plus a host of in-home accessories like stair lifts, chairs, scooters, and walkers.
Contact
To learn more about the athlete of the week program or to get additional photos please contact:
Joshua Ater
Marketing Director
Tobey Auto Group
937-372-4451 ex 3049
jater@tobeyauto.com