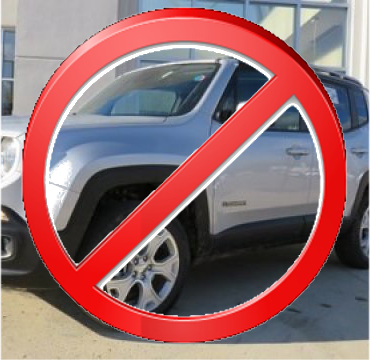 06 Jul

5 Reasons Not to Buy the Jeep Renegade

Results of 5,000 Miles of Research…

So I took the plunge and demo'd a Jeep Renegade. I drove it off the lot with less than 10 miles to the engine and didn't return it until the speedometer his 5,000. My previous experience in the small SUV category was ownership of a 2001 Honda CRV – ten plus years and that car was still a favorite. I had a few tears the day we sold that CRV so needless to say, as I set off to research this Renegade I might have been slightly biased. Here is what I found.
I had to move to the unlimited texting plan.
You know the feeling. You are stuck in stop-and-go traffic on your way home from a long day. On the seat next to you is your best friend. Ok, maybe not really, but your cell phone is your connection to your best friend – and every other 6.5 billion people on this globe. As I keep punching the radio control button to try and find a station that might hold my interest for more than 10 seconds – I hear the familiar call – the all too friendly vibration of my Samsung Galaxy calling my name. Who hasn't been tempted?
Before driving the Jeep Renegade I'd often succumb to temptation and pickup that phone for a quick text all the while my conscience is telling me this is just a bad idea. NO MORE! With the Renegade's all new UConnect, all I have to do is call out my favorite name and the system takes over for me. The melodic technical voice asks me who I want to text (or call – but who does that anymore) and I can simply dictate to my heart's desire. 30 minute backup and I have proudly completed 123 text messages to and from all my closest friends. Thanks Uconnect for increasing the addiction.
4-Letter Expletives – AKA Tourette's syndrome – have completely disappeared (well almost)
I live in Ohio. Not exactly off-roading kind of country right? Except for miles of endless orange barrels and pot holes, who needs the Jeep Renegade's off-roading capability? With my previous Honda CRV I enjoyed the knowledge of knowing just how deep every pothole was as I felt the impact going down I-75 almost on a daily basis. My chiropractor also enjoyed the bi-weekly adjustments that only happen to those in state like Ohio where our potholes mirror the size of small craters. I also enjoyed that feeling that you were going to any minute topple over as I drove the not-so-treacherous curves in Hocking Hills Ohio.
All of these feeling went away while driving the Jeep Renegade. No feeling of potential coming doom while driving around Ohio's rolling hills. No more notice of deep impact when running through the ever-present potholes. Best yet – my Tourette's syndrome while on the road seems to have significantly improved.
I have to take the overflow baggage
You know the type. Those friends who pack three jumbo size duffel bags for a weekend away. They always are also the ones who aren't going to drive so you have to find a way to stuff their things into one of the cars and inevitably someone in the back seat is going to be crunched against the corner for two hours while you drive to the lake.
Now that I am driving the Jeep Renegade, I am the one who is taking the overflow. After packing in the tent, the full-size cooler, the air mattress, a chairs for around the fire, an over-sized flashlight, a few bags of groceries, and my ONE duffel bag, I am the one who has the flexibility to take that additional jumbo size duffel and still comfortably sit 3 people for the ride. Autotrader had it right when they said " Keeping the rear seats up yields 18.5 cu ft. of rear cargo space, which is more than a sedan's trunk. That expands to 50.8 cu ft. with the rear seats folded down…" It's a small SUV so don't expect to pack what you could in a 8 ft truck bed, but for me, and a few extra duffle bags, this holds more than enough. Lucky me.
I've increased my Starbucks addiction
Who doesn't enjoy a triple white chocolate mocha from time to time. Ok, maybe I'm addicted, but during my regular stops to the local Kroger gas station, it was all too easy to jump inside for another cup of Joe. However at $4.95 a cup (I add an extra shot of expresso for those Starbucks fanatics that are adding up the price) my budget couldn't afford more than a few trips a week.
However, with the Jeep Renegade priced at an average of $1,000 less than comparable models, I have justified an additional 202.02 triple white chocolate mochas this year!
So maybe I am just demoing this vehicle for review, but that still justifies the cost savings and additional cups of Starbucks, right?
I'm struggling to control my pride
It's rather enjoyable when people turn their heads to gawk while you are driving down the road – or when your friend's take notice of the numerous ways the Jeep Renegade has enhanced the interior with telltale Jeep insignia. Damon Lavrinc puts it well, "So I honestly didn't understand why people were so stoked about the 2015 Jeep Renegade. Then I saw it. Then I drove it. Now I get it."
Jeep outdid themselves in paying attention to the small details – be it the Jeep insignia around the rearview mirror, the highlight on the dash and around the interior, or the unforgettable "x" within the rear brake lights. Oh, and don't forget the hidden Easter Egg Yetti that is a great conversation starter around the campfire. Truth is – this car is just plain fun to drive and you can't help but get noticed.
Hard to believe, but 5,000 miles later. This Jeep Renegade had me hooked. It beats my old Honda CR-V hands down. Sure I have a few more vices I now have to control – but who wants to buy a car that isn't any fun, right? Now you've hear my side, here are a few ways you can check it out for yourself.