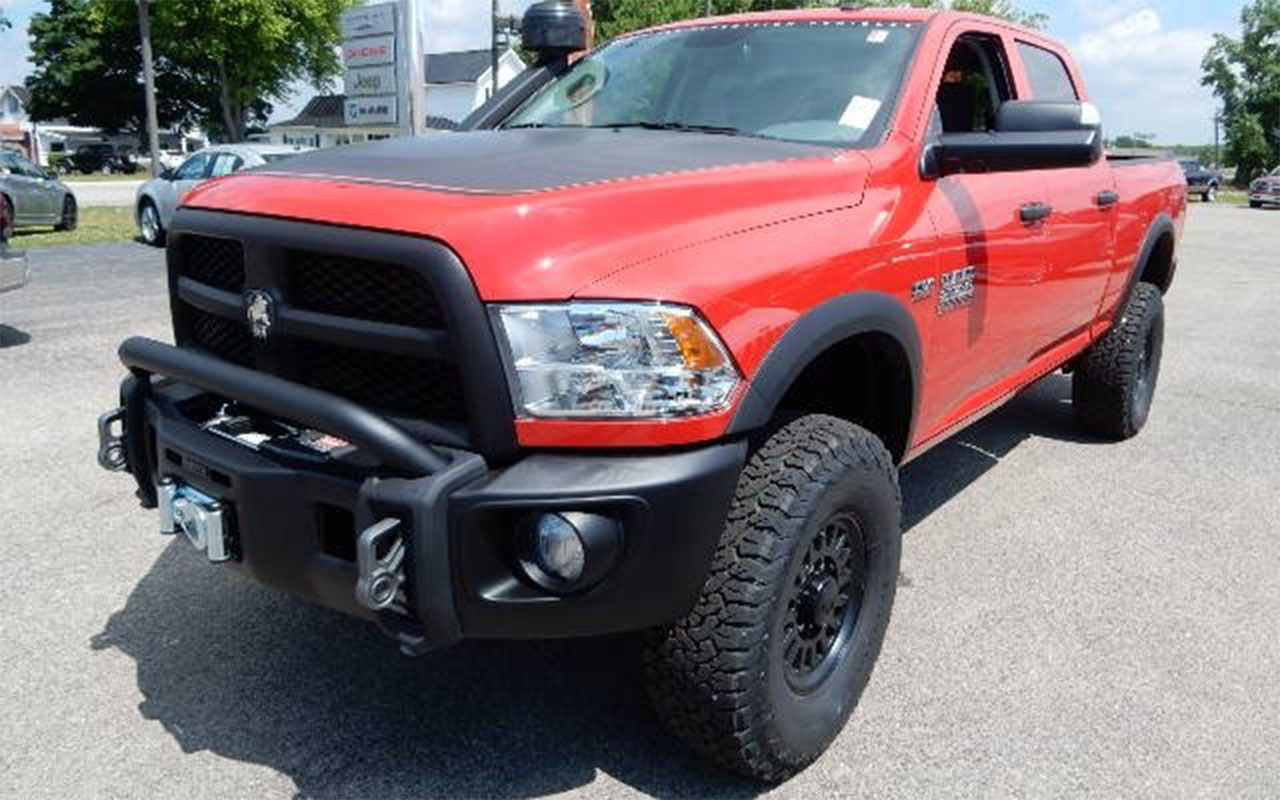 22 Aug

5 Reasons to Buy A Ram Prospector

TOBEY AUTO GROUP –  Ring, ring. Ring, ring. It's adventure calling.

Sure you've had a long day at the farm, but you're still ready to cut loose on the trails . . . but then again, you don't want to leave your truck? What's a farmer to do?

Here at Tobey Auto, we have the truck for you. Meet the 2016-Heavy-Duty-Ram 2500-Hemi 6.4 L Engine-AEV Prospector. Ready to take you from work to play, our Ram Prospector will unlock the outdoor enthusiast in you. The next time adventure calls? You'll be ready to answer.

We asked our resident AEV expert, here at TobeyAuto, and The Cody Show star himself, Cody Day, to give us his top five reasons to make the switch to the AEV Prospector.
1) Anti-Glare Decal
As you sit up high and close to the sun (courtesy of your Prospector's 37" tires), your AEV hood applique will shield you from glare on even the sunniest of days.
2) Raised-Air Intake System
Designed to keep water away from your engine and air going into it, AEV's exclusive Raised-Air Intake System also increases engine longevity as you trek through the lakes, rivers, and valleys. Just try to stay away from oceans.
3) AEV Badging
With AEV's iconic bison emblem-badging on your vehicle's front and rear, you'll take pride in knowing that your Ram Prospector was assembled in America with only the highest-quality materials.
4) Step Bars from Cruisers
Getting into your truck with its 37" tires is a whole lot easier with power-folding running boards (or step bars click resources.) Installed by Tobey Auto's aftermarket and accessories store, Cruisers, step bars also protect your Ram against lower body damage vehicle.
5) Premium Front Bumper
Providing superior towing ability, your Prospector's front bumper comes integrated with a 16,500lb. WARN winch. Thus, you'll have no problem pulling out your friend's Ford, Chevy or Toyota from whatever ditch it's landed in.
Learn more about our AEV Ram Prospectors and check out our available inventory here.