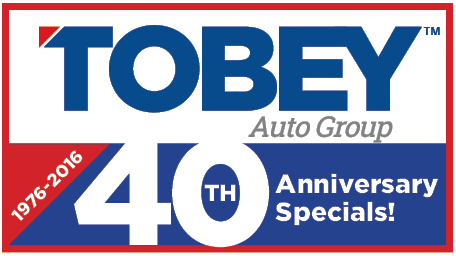 05 Oct

Tobey Auto 40th Anniversary
40th Anniversary Specials
At Tobey Auto we are celebrating 40 years by slashing prices on all cars down to employee pricing. What does that mean for you?
First, that means EVERY CAR at Key Chrysler and New Carlisle Chrysler is on sale with discount up to 26% off! Second, you pay what the employees pay – it's that simple. This month we will not be beat. You will get the best deal in town at Key Chrysler and New Carlisle Chrysler.
To get your 40th Anniversary pricing – find the vehicle you love and ask for an 'e-price'. We'll contact you back with the additional employee discount savings. That over and above the savings already listed!
Here is how it works:
MSRP: Manufacturer Suggested Retail Price
– Manufacturer Discounts (discounts every CJDR dealer has)
– 40th anniversary pricing (ONLY AT KEY & NEW CARLISLE)
______________________________________
            = Best price in town!
Cruise-In October 15
Held at our New Carlisle dealership, all are invited to attend on Saturday, October 15th from 4PM – 7PM. Show off your sweet ride! Trophies, dash plaques, free food. Just $10 per vehicle entry. Proceeds go to local scholarship fund. Click here for full details.
Auction October 29
With over 50 vehicles starting at under $500, we continue our anniversary celebration with a first-ever auction at Key Chrysler in Xenia. On Saturday, October 29, starting at noon (12:00 PM), you can find that perfect "beater" you've been looking for. But you must act quickly. Pre-registration is required. Learn more and then pre-register now.
Our History
In 1976, as the story is told, Terry Tobey took over Key Chrysler in Xenia. Close to collapse and with only fifteen employees Terry had his work cut out for him. But Terry had a vision – put the customer first, treat everyone fairly, have the best staff in town, and be committed to your community. Years of hard work and dedication paid off as the Tobey Auto Group grew to include Key Chrysler, New Carlisle Chrysler, Key Mobility, and Cruisers.