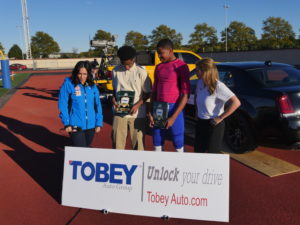 18 Oct

Kadeim Jones and Chris Jackson Tobey Athletes of the Week

Dayton, OH – Chris Tobey, President of the Tobey Auto Group, was happy to present Kadeim Jones from Thurgood Marshall High School and Chris Jackson from Dunbar High School with this week's Tobey Auto Group Athletes of the Week award. Kadeim and Chris were chosen by their respective schools because of their excellent performance both in the classroom and on the field. Both Kadeim and Chris also have a great commitment to serving their community. As a part of the award, they will both receive a $250 scholarship from the Tobey Auto Group at the end of the school year at the awards program and will also be eligible with other chosen student athletes of the week to receive a $5,000 scholarship at the end of the year.

Kadeim maintains a 3.88 GPA. He is the team captain for the varsity basketball team. He is a three year letterman in basketball and one year in football. Kadeim was named to the all-area team, awarded the Most-Improved Player award, and the Student Athlete Scholars award. Off the field and the court he volunteers at the canned food drives and local food pantry over here. He plans to study sports medicine at college next year.

Chris has a 3.1 GPA. He received a 2015 Honorable Mention award for football, and the Selfless Player Award for basketball. He also was the Southwest Ohio Player of the Week candidate on Dec 7 for basketball. He volunteer by reading to elementary students at Louis Troy elementary and is a freshman mentor. He also volunteered to help clean the Miami River.

"Tobey Auto has been a part of this community for forty-years." said Chris Tobey, CEO of the Tobey Auto Group, "we strongly believe in giving back to the community and what better way than to support the future efforts of our local students. Congratulations Chris and Kadeim!"

Each week the Tobey Auto Group will recognize two students chosen by their respectful schools during the Thursday Night Lights football broadcast produced by FOX45 News. By the end of the 2016-2017 school year a total of $10,000 in scholarship money will be awarded in support of our local student athletes.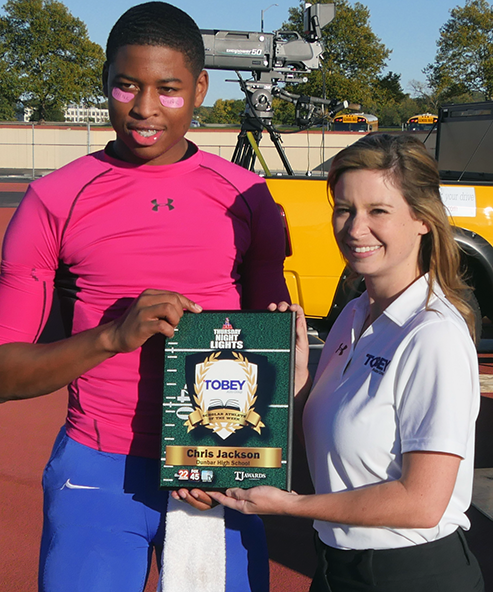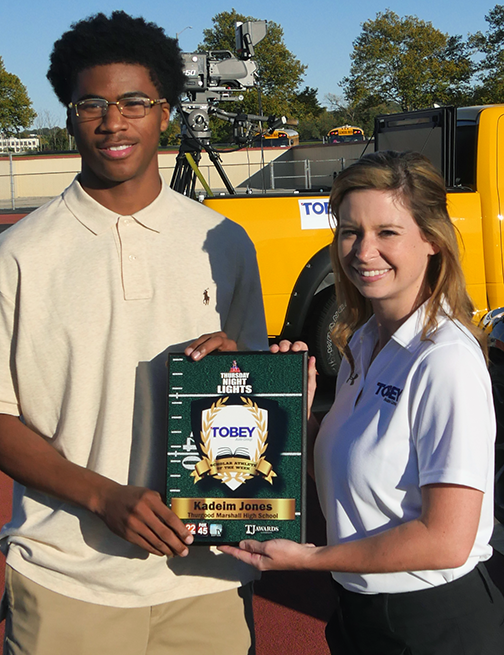 About the Tobey Auto Group
The Tobey Auto Group represents two Chrysler Dodge Jeep Ram dealerships in the greater Dayton region – Key Chrysler Jeep Dodge, and New Carlisle Chrysler Jeep Dodge — along with Cruisers, an aftermarket parts store, and Key Mobility, a handicap and mobility vehicle and accessories store.
The Key and New Carlisle dealerships boast one of the strongest inventory of Chrysler, Dodge, Jeep and Ram trucks in the entire Southwest Ohio region. The family owned dealerships focus on providing the absolute best customer service for the life of every vehicle starting with honest pricing, no bait-and-switch programs, and no high-pressure sales. In addition to our new car lineup, Tobey Auto Group features the areas' largest selection of certified pre-owned vehicles. The Tobey Auto service departments are rated as best in the area and feature a 30-minute express lane for quick, no appointment oil changes, and we are the only CJDR dealership servicing fleet and commercial business needs that includes heavy-duty trucks and service vehicles. The group also sells AEV (American Expedition Vehicles), an offering no other dealership in a 100 mile radius offers.
Cruisers offers hundreds of after-market car parts from mats to seat covers, fog lights, bed liners, tool boxes, headache bars, ladder racks, step bars, and much more. Key Mobility offers wheelchair accessible equipment for your vehicle including lifts, racks, steering and braking systems plus a host of in-home accessories like stair lifts, chairs, scooters, and walkers.
Contact
To learn more about this program or to get additional photos please contact:
Joshua Ater
Marketing Director
Tobey Auto Group
937-372-4451 ex 3049
jater@tobeyauto.com